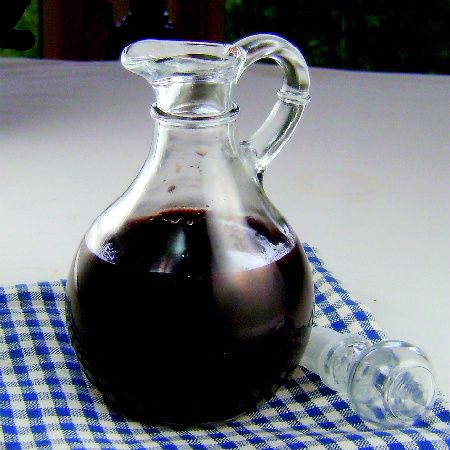 I keep this lovely sauce in my refrigerator during the summer months. I think of it as a secret weapon and use it to turn the simplest of desserts into something really special. I keep a supply of vanilla ice cream in the freezer, and when it's topped with this gorgeous sauce I know I have a treat that can be served to unexpected guests without fuss or bother. It's very easy to make and, despite its simplicity, it has been well-received ever since its publication in Light and Tasty Magazine. I hope you'll give this sauce a try. I'm really proud of it. Here's the recipe.
Sweet Berry Wine Sauce...from the kitchen of One Perfect Bite
Ingredients:
1 cup water
1/2 to 1 cup sugar
2 cups frozen unsweetened mixed berries
1/2 cup port wine or grape juice
Optional garnish:
1/2 cup fresh raspberries
1/2 cup fresh blackberries
1/2 cup fresh blueberries
Directions:
Bring water and sugar to a boil. Add frozen berries and wine or juice; return to a boil. Reduce heat, simmer, uncovered for 5 minutes. Mash and strain berries, reserving juice. Return juice to pan. Bring to a boil; reduce heat and simmer until mixture is reduced to 3/4 cup. Cool to room temperature. If using, stir fresh berries into sauce just before serving. Chill.
One Year Ago Today: Scallion and Asparagus Salad
Two Years Ago Today: Blackberry Sherbet
You might also enjoy these recipes:
Strawberry Rhubarb Sauce - Half Baked
Creme Anglaise - Cook Italian.Com
Salted Caramel Sauce - The Amateur Gourmet
Strawberry Dessert Sauce - Drick's Rambling Cafe
Easy Microwave Mixed Berry Sauce - Baking Bites
How to Make Your Own Blueberry Syrup - Simple Bites
Rhubarb Syrup - Closet Cooking
Peach Sauce with Nutmeg - Smitten Kitchen
Strawberry Sauce - Our Best Bites
Mango Syrup - Annon's Thai Food